Arts Happenings
The Correspondence Show

curated by Steve Clorfeine
September 23 – October 21
Opening Reception: Friday, September 23, 5:00-7:00 p.m.
A curatorial installation by Steve Clorfeine representing the work of 20+ Hudson Valley/Upper Catskill artists, each invited to create works inspired by letters and post cards written to Mr. Clorfeine
over a period of 50 years.

Steve Clorfeine is a performer, writer, director, and teacher mainly known for his improvisational works. He has been a member of Merdith Monk's company and has created performances using film, movement, song, and text. He has been actively practicing Buddhism for over 40 years, and so much more! An artistic gem of the Hudson Valley.
---
Congratulations to 6 visual art majors
Joan Mena, Graphic Design, Kingston
Keith Spang, Fine Arts, W. Shokan
Amanda Tulacz, Graphic Design, Connelly
Jericho Houben, Fine Arts, Boiceville
Caitlion Ziegler-Horton, Fine Arts, Kingston
Candice Metzger, Individual Studies (Fashion/ Fine Art), Kingston
have been chosen for the SPRING 2016 SUNY Student Art Exhibition, at the Plaza Gallery at SUNY Plaza in Albany. Each year this exhibition is put together selecting visual art student work from programs throughout the SUNY system, and they were chosen to represent SUNY Ulster.
The exhibition is open on Feb.10th. and will run until May 13th. It is open during regular M-F office hours. There may be a public reception for the exhibition later in the semester with SUNY Chancellor Nancy Zimpher.
STOP PRESS: In addition, Fine Art alum Michelle Moore (2015), who is now a Surface & Textile Design major at FIT in New York City, was selected from the Fall 2015 SUNY Student Show to be included in the Best Of The Year SUNY Student Exhibition to be held at the NY State Museum in Albany from June-Sept. 2016.

Directions to the Plaza Gallery (open during weekday office hours)
1-87 North to Exit 23
Take 787 to Downtown Albany exit
Turn L at light
Continue through next light, bear right onto Broadway
3rd. traffic light turn R onto Maiden Lane
Turn R onto Water St. & immediately into the R lane for the entrance to the SUNY Plaza parking lot
Directions to SUNY Plaza & Google map link:http://www.suny.edu/System_Links/SUNYDirections
SUNY Ulster Awarded Grant for Student Travel
Five Students Selected to Study Graphic Design at LaSalle University in Mexico City.
SUNY Ulster has been awarded a Santander Global Scholars Award enabling five current students to travel to Mexico City for one week in March of 2016 to study graphic design at LaSalle. The scholarship recipients include:
Elizabeth Jobson, New Paltz;
Joan Mena, Kingston;
Morgan Schaffrick, Hurley;
Jennifer Thomas, Rosendale;
Tiffani Woods from Wallkill;
and Tyler Williams, Highland, as an alternate.
Read the Whole Press Release See the article in the Hudson Valley News Network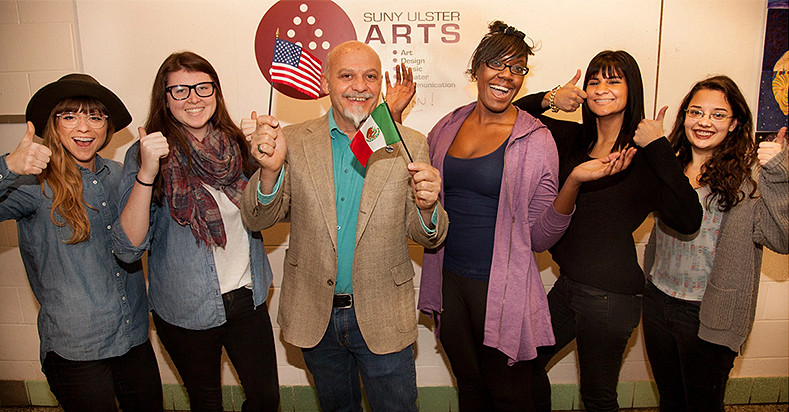 ---
Congratulations to 6 visual art majors
whose art projects have been accepted for the Fall 2015 SUNY Student Exhibition at The Plaza Gallery, SUNY Plaza, Albany.
The SUNY Student Exhibitions occur twice a year and highlight student work from art departments throughout the SUNY system.
The exhibition is open during office hours from now until February.
Madeline Friedman (Olive Bridge), 2D Design
Jennifer Hoffman (Newburgh) painting
Laura Holloran (Ulster Park) Photo
Stephan van Kleeck (Accord) Drawing
Joseph Thorens (Kingston) graphic design
Candice Metzger (Kingston) drawing
Multimedia
SUNY Ulster's Communications Program
Get an insider's look at our Video Production Class using world-class equipment at a professional studio.
SUNY Ulster Fine Arts Program
Learn about our Fine Arts program and hear what some of our graduates have to say.